IAU îdF

Paris Region Planning and Development Agency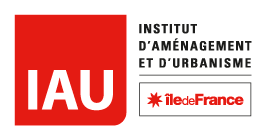 For Better Living Cities
The Paris Region Planning and Development Agency (IAU Île-de-France) is dedicated to territorial entities, offering analysis, studies and decisionmaking tools.
More than 160 experts
Urban planning and land management, environment, transport and mobility, economy, housing, real estate, way of life, health, sports, etc.
Enabling the development of the capital's region: Paris Île-de-France region
The IAU focuses on the regional planning and economic development of Paris Region: territorial dynamics, sustainability, clusters. We participate in the elaboration of regional master plans: « Île-de-France 2030 », urban development, housing, economic development…
Conceiving territorial dynamics
Through innovative ideas, the IAU helps local authorities and companies to take the right decisions. Our Agency has already advised numerous clients located all around the world: Africa, Latin America, Middle-East, Asia. We also carry out benchmarks on global regions and cities.
Informing decision-makers and citizens
The IAU develops digital and interactive tools on Île-de-France. We also actively contribute to the development of open-data. For example: Paris Region Map: the economic map of Île-de-France; Wikimap' project: a collaborative map of all spatial planning projects; Land Use mode (Mos).